Review: 'The Player's Encore' a Double Dose of Mystery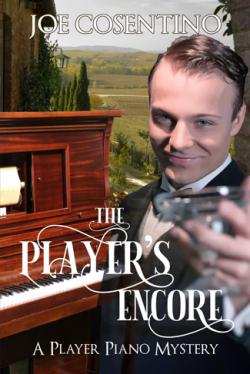 "The Player's Encore" marks the triumphant return of New Jersey music teacher Andre Beaufort and his supernatural suitor, Roaring Twenties chap Freddy Birtwistle, in the second entry of the remarkably entertaining "Player Piano Mysteries" series by Joe Cosentino.

After proving their investigative prowess in "The City House" and "The Country House," the amateur sleuths and lovers take trips to the ocean and abroad in "The Beach House" and "The Villa," two new cozy mysteries where murder is inevitably included on the travel itinerary.

In "The Beach House," Andre heads to Key West for some sun and fun at the Apollo Branchus, a gay-friendly guest house that was previously owned by Freddy's father, Leighton. Soon after Andre has checked in and become acquainted with the staff and the other guests, the head houseboy, Christian, ends up dead — five years to the day after former head houseboy, Angel, also met his demise.

The lengthy list of suspects includes the manager, Troy, who may have gotten caught with his hand in the till; Yusef, the desk clerk and most recent former object of Christian's affection; and Nico, the houseboy next in line for Christian's job.

Coincidentally, detective Ken Evans is another guest at the inn, along with Christian's parents, Al and Maya, and their ambitious nephew, Spencer. Andre joins forces with the conspicuously cooperative Ken and, with Freddy's invaluable assistance, identifies the culprit.

In "The Villa," Andre and his newly out Uncle Darryl, embark upon a voyage to an Italian villa in Tuscany. Upon arrival they meet Claire and Vance, a married couple grieving the recent death of their young son; tech giant Julian Maverick, his son, Colin; and their respective disgruntled employees, Rai and Felix.

When Colin dies after someone poisons his dinner, the villa's amorous owner, Bartolo Lotto, calls upon the services of the equally flirtatious detective Francesco Ferrari. Meanwhile, Andre summons his savvy soul mate, and soon yet another mystery is solved.

"Encore" is rife with abounding romance, as well as Freddy's titillating trademark anecdotes, complete with oh-so-casual mentions of the likes of Fanny Brice, Tallulah Bankhead, and Greta Garbo. With each mystery, the reader learns a little more about Freddy's already colorful history — in this instance, his sister, Charlotte. There is also a wedding, a threesome, and, most importantly, someone other than Andre who can see and speak to the ghostly Freddy.

Murder is inarguably a grisly business, yet the combination of Andre's determination and Freddy's enthusiasm, coupled with their endearing affection for each other, makes their entertaining, episodic adventures all the more enlightening.


"The Player's Encore: Player Piano Mysteries Book 2," by Joe Cosentino, is available now.
Chris is a voracious reader and unapologetic theater geek from Narragansett, Rhode Island.
Comments on Facebook