Topics :: Valentine's Day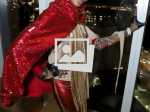 For Valentine's Day, Susanne Bartsch produced Kabaret Boom, held at Top of The Standard in New York. Guests included DJ Aquaria, Dirty Martini, and a special appearance from pop star Kim Petras.
A perfect box of chocolate for Valentine's Day will always be appropriate, adored and desired. Looking to snatch up your love's elixir? Here are five of our fave chocolatiers and how to get them.
A new survey finds nearly 60 percent of people give their partner an F grade when it comes to bringing the romance on February 14.
Is that love in the air or french fries? White Castle, KFC and other fast-food restaurants are trying to lure sweethearts for Valentine's Day.
Before the tech revolution, you might have sent a lock of hair, a printed photo or a perfumed note to a loved one far away. Or you can choose from an array of clever high- and low-tech Valentine's Day gifts that send the "I miss you" message.
With an ancient love connection - the Aztecs believed chocolate was an aphrodisiac - and built-in marketing opportunities that include Valentine's Day, the purveyors of chocolate offer their wares in a variety of price ranges.
Valentine's Day is sneaking up, but never fear - red wine is here! Whether you're looking to romance your sweetie or go out with friends on an anti-V-day excursion, EDGE has you covered.
Are you ready to ignite your relationship with a romantic Valentine getaway? EDGE had rounded up five special destinations to spend with your significant other.
Does your sweetheart have a milk allergy? You may want to hold off on a dark chocolate Valentine.
On Valentine's Day, February 14, HBO Documentary Films presents "Rosie O'Donnell: A Heartfelt Stand Up," a hybrid form of standup comedy inspired by O'Donnell's recent near-fatal heart attack.