Top Story
The attacker who killed two people in a shooting at a German synagogue live-streamed the assault on Twitch, a video service owned by Amazon.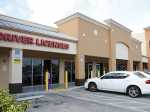 The U.S. Census Bureau is asking states for drivers' license records that typically include citizenship data after the U.S. Supreme Court blocked plans to include a citizenship question in its 2020 population count.
The world's largest 3D printer has created the world's largest 3D-printed boat. And the University of Maine demonstrated Thursday that it's seaworthy.
While we in the 21st century can only wait for the day when our contributions to society take precedence over the private matter of who we love and marry, gay gingers can find in Renaissance genius Leonardo da Vinci a further source of pride.
A video circulating on social media that shows a wearable projector to hide the faces of protestors is conceptual. It doesn't work.
An increase in sexually transmitted diseases in Hawaii to the highest numbers reported in decades can be linked to the prevalence of online dating, officials said.