1 thru 10 of 3965 Stories
This year, Polo Ralph Lauren will unveil the Pride capsule collection, a five-piece gender-neutral collection for adults and children.
Kendall Jenner, Antonio Banderas and other stars attending the nearby Cannes Film Festival turned out Thursday for the 26th amfAR Gala to raise money for AIDS research.
Lada Gaga's multiple fashion reveals were a big moment at the Met Gala, and a sweet one for her friend Brandon Maxwell.
Just in time for Pride Month in June...
Rihanna, the first black woman in history to head up a major Parisian luxury house, is unveiling her first fashion designs for Fenty at a pop-up store in Paris.
Rihanna reveals some new details about her forthcoming ninth album.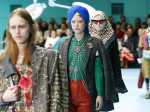 Nordstrom has apologized to Sikhs for selling a turban they found offensive, but a representative with the U.S. community's top civil rights organization said they are still waiting to hear from the Gucci brand that designed it.
As the Cote d'Azur extravaganza has unspooled over the last week, photographer Petros Giannakouris has focused his camera lens on the smaller fashion details of the festival's famed red carpet.
It's been a minute since a new fashion design competition has occurred. Enter: "Next in Fashion," soon to come on Netflix.
Gloria Steinem, Cecile Richards, Michelle Obama. Barbie? The Council of Fashion Designers of America will follow up those prestigious honorees of its Board of Directors' Tribute Award with the ever-evolving doll.
1 thru 10 of 3965 Stories