Hong Kong Pride Parade 2019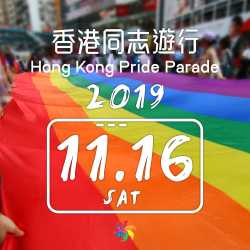 When:
Saturday November 16 at 2:00PM


About:

Hong Kong Pride Parade 2019


Date: November 16, 2019 (Saturday)

Time: 2:00 p.m.

Parade Route: Causeway Bay (Starting Point)-->Edinburgh Place (Finish Point Assembly: performance and exhibition booths)

Theme: Equal Justice, Equal Rights

Dress Code: Pride Rainbow
See you on 16 Nov!

Stay tuned on our social media platforms to receive Hong Kong Pride Parade's latest news!


Facebook Page: fb.com/hkpride

Facebook Event: https://www.facebook.com/events/401973550293609/

Instagram ID: hkprideparade

Telegram Channel:https://t.me/hkpride

#hkp2019 #hkprideparade2019 #EqualJustice #EqualRights #PrideRaindow #LadyRainbow #Rainbow #LGBT #LGBTTQQIAAP

In the process to get the Letter of No Objection from HK police