North Jersey Pride Festival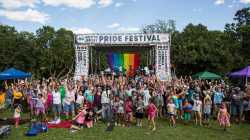 When:
Sunday June 10 at 12:00PM

Visit Website
About:

North Jersey Pride is a wonderful, family-friendly event that brings together thousands of LGBTQ community members and straight allies from all over the Garden State to celebrate diversity and promote equality. Attendance has increased an astonishing 400% year-over-year since our inaugural event!Admission is free to this all-day community celebration, thanks to the generosity of our corporate and individual sponsors. Enjoy a live stage showcasing incredible talent, 100+ merchant vendors, and our famous five-star food court, featuring outstanding fare from local culinary artisans. Come with a blanket or some beach chairs and spread out on the lawn. Your kids will be off enjoying the huge Rainbow Kids Zone, with a live kids stage, so you can watch the show in peace. Best of all, learn more about the wonderful LGBTQ and ally nonprofits that are doing important work in the community.

As you can imagine, all this fun takes a whole lot of effort and we need new volunteers to join our team. So whether you've enjoyed our festivals in the past and want to get involved or you're new to the area and want to meet likeminded people or you're just looking for a way to give back, PLEASE JOIN OUR TEAM. We need volunteers, not only on the day, but in the planning stages and for key leadership positions.

Email volunteer@northjerseypride.org for more info!