1 thru 10 of 27846 Stories
President Donald Trump called out U.S. women's national team co-captain Megan Rapinoe after a months-old video was posted on social media in which she used profanity when she said she wasn't going to the White House if the team wins the Women's World Cup.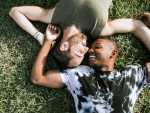 A new national survey has found that a majority of LGBTQ Americans are still afraid to show public displays of affection.
A Houston man spoke out after a server at a local restaurant described him on a receipt as "to go dude with dreads fat gay," news sources said.
A new federally led study of oil seeping from a platform toppled off Louisiana's coast 14½ years ago found releases lower than other recent estimates, but contradicts the well owner's assertions about the amount and source of oil.
Alphonso David, a civil rights lawyer who has been serving as chief counsel to New York Gov. Andrew Cuomo, was named Tuesday as the new president of the Human Rights Campaign, the largest LGBTQ-rights organization in the U.S.
President Donald Trump's son Eric Trump said the U.S. Secret Service took an employee of a Chicago cocktail lounge into custody after she spit on him.
Fox News hosts Sean Hannity and Tucker Carlson enjoyed a ratings surge from the channel's solo extended coverage of President Donald Trump's 2020 campaign kickoff.
Special counsel Robert Mueller has agreed to testify publicly before Congress on July 17 after Democrats issued subpoenas to compel him to appear, the chairmen of two House committees announced.
Philadelphia police must use a person's chosen name and pronoun when interacting with someone who is transgender, regardless of what is listed on their government-issued identification card.
Two and a half years into the Trump presidency, the exclusionary rhetoric emanating from the top might be doing even more damage than feared, a new poll showing declining acceptance of LGBTQs among America's younger set suggests.
1 thru 10 of 27846 Stories