Top Story
The 31st edition of NewFest, New York's LGBTQ Film Festival, features more than 160 films (inclusive of shorts) from 32 countries and runs October 23-29th. EDGE's Frank A...
Not just another love story anchored in the pains and miseries of coming out as different in a place and time where difference is punished, "To the Stars" promises us something a little different and a little unexpected - and delivers.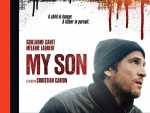 No one does suspense quite like the French. They tend to take it into the most imaginative and least expected places possible. Such is the case with this thriller, which is so immediate and raw that the anticipation is almost agonizing.
When do you give up on someone? Is it when they push you away time and again? Is it when they walk out of your life? Is it when they give up on themselves? That's what writer-director Yuval Hadadi explores in this drama.
This documentary about The Lesbian Herstory Archives in New York details the archives' founding, its endurance through nearly half a century, and its successful mission to preserve lesbian history from a society determined to erase it.
A Chinese woman brings her Western husband home to Beijing, where the dynamics between her gay father and angry, bitter mother continue to haunt her as they did in childhood.