Two companies who were advertising at-home sexual assault evidence collection kits appear to have halted selling and marketing the products after widespread objections and two state attorneys general threatened the companies with legal action.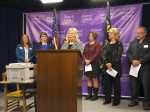 Carol Manstrom says she lost her 18-year-old son when he grabbed his father's unsecured pistol and shot himself. Paul Kemp lost his brother-in-law when a man opened fire with a stolen AR-15 assault-style rifle at a shopping mall.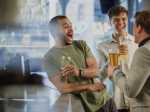 Beer and wine tourism is on the rise, as seven in 10 Americans have traveled to a destination specifically to sample the alcohol in the region.
"Queer Eye" food and wine expert Antoni Porowski is the latest celeb to visit BuzzFeed and read your thirstiest tweets about him.
Highlights from Wednesday's shows launching Milan Fashion Week of mostly womenswear previews for spring/summer 2020:
A California transgender man can go ahead with a discrimination lawsuit against a Catholic hospital that canceled his hysterectomy, an appeals court ruled Tuesday.
Britain's Supreme Court was hearing final arguments Thursday in a case that will determine whether Prime Minister Boris Johnson broke the law by suspending Parliament just weeks before the U.K. is due to leave the European Union.
Female couples make up more than half of all same-sex households in the United States, but male couples dominate in cities with large gay populations.
Police in North Carolina have launched a homicide investigation after the body of a transgender woman was found in the debris of a house fire.
Lawyers for two Air Force members who are HIV-positive urged a federal appeals court Wednesday to uphold an injunction that bars the Trump administration from continuing with discharge proceedings against them.