1 thru 10 of 118148 Stories
"Gay Chorus Deep South," a 2019 documentary about a men's choir touring the American Deep South, has been bought by MTV Documentary Films. The studio, run by former HBO exec Sheila Nevins, hopes to organize a theatrical release.
Two Pulse nightclub shooting survivors organized a march last Saturday to connect so-called "overcomers" of homosexuality. This takes place shortly after a petition has gained thousands of signatures to ban conversion therapy.
"Schitt's Creek" is unfortunately coming to an end but Pop TV, the network that airs the beloved comedy in the U.S., announced the Season 6 airdate.
The key to carbon dioxide's strong influence on climate is its ability to absorb heat emitted from our planet's surface, keeping it from escaping out to space.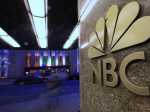 Comcast's NBCUniversal said Tuesday that its upcoming streaming service will be called Peacock, in an homage to NBC's logo. It will become the home for some of the company's most popular shows, including "Parks and Recreation" and "The Office."
Cokie Roberts, the daughter of politicians who grew up to cover the family business in Washington for ABC News and NPR over several decades, died Tuesday in Washington of complications from breast cancer.
A forum on LGBTQ issues featuring the presidential contenders for next year's elections is set to be hosted by "Pose" star Angelica Ross.
"Jeopardy!" host Alex Trebek says he's had a setback in his battle with pancreatic cancer and is undergoing chemotherapy again.
The latest season of "Dancing with the Stars" kicked off Monday night and the world got to witness President Donald Trump's former press sectary Sean Spicer dance the salsa.
It's not too early to think about your holiday travel. Now is the time to save when booking flights.
1 thru 10 of 118148 Stories