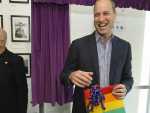 Britain's Prince William says it would be "absolutely fine" if one of his children came out as gay though he'd worry about how the public would respond.
Jack Tracy creates web series, films, albums, and now a podcast, all geared toward telling universal stories through an LGBTQ lens. Tracy's podcast, "Community," is a fictional series, but it feels all too real; Tracy tells EDGE all about it.
California has among the most stringent gun laws in the country and on Monday a far-reaching new initiative to curb violence will require background checks for every ammunition purchase.
Australia's three largest media organizations joined forces on Wednesday to demand legal reforms that would prevent journalists from risking imprisonment for doing their jobs.
For the first time in decades, NASA is about to open some of the pristine samples of moon rocks collected during the Apollo missions and let geologists take a crack at them with 21st-century technology.
A swath of western and central Europe is sweating under blazing temperatures, with authorities in one German region imposing temporary speed limits on some stretches of the autobahn as a precaution against heat damage.
A new federally led study of oil seeping from a platform toppled off Louisiana's coast 14½ years ago found releases lower than other recent estimates, but contradicts the well owner's assertions about the amount and source of oil.
One of the biggest celebrations of LGBT pride in New York City history will culminate Sunday with not one, but two processions through the streets of Manhattan.
Monument Park has a new addition that celebrates diversity.
Alphonso David, a civil rights lawyer who has been serving as chief counsel to New York Gov. Andrew Cuomo, was named Tuesday as the new president of the Human Rights Campaign, the largest LGBTQ-rights organization in the U.S.