This Ghostlight Records release is a perfect introduction to a song cycle that seems destined to become a staple of LGBTQ choruses around America and beyond.
The 13th album by the gay punk icon is refreshing in its blast, with a look toward the bright side of life's inevitable curveballs.
R. Kelly is planning an international tour, but an Australian lawmaker wants the country to bar him from performing there.
Matthew Olshefski can't remember a time when there wasn't music in his life, but it has only been recently that he's attracted a substantial following by playing the violin without his shirt on. EDGE spoke to self-styled Shirtless Violinist.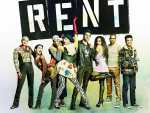 The soundtrack for the Fox performance televised on January 27th.
Cardi B said she received an offer to perform at the Super Bowl, but struggled with the decision to turn down the lucrative opportunity in support of ex-NFL player Colin Kaepernick.
Gladys Knight says her singing the national anthem at the Super Bowl will bring people together.
Israeli pop star Netta Barzilai, winner of last year's Eurovision song contest, released a new single Friday which she says reflects the highs and lows in the year since her shock victory shook up her life.
The Recording Academy's Task Force on Diversity and Inclusion is launching a new initiative to create and expand more opportunities to female music producers and engineers.
For Grammy-nominated singer Joe, singing the hit song R. Kelly wrote and produced for him is out of the question.