Bela Lugosi's horror cinema legacy lives on and courtesy of Scream Factory, who unearths a long-lost classic from the 1940's.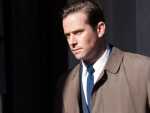 Rumors are spreading that Armie Hammer is in talks of taking on the role of Batman.
With an exploitative new book hitting the shelves about the church's gay demimonde, and the church's steadily worsening institutional hostility toward gays, this is a film that's instructive... and not very hopeful.
New this week, 2018's "Robin Hood" gets a decent 4K Blu-ray and regular Blu-ray release from Lionsgate. But for those looking for light fun, I'd look elsewhere.
One of the most entertaining and expertly made films of last year arrives on Blu-ray, and it would be a sin if you were to Nazi-it.
The Oscars ceremony may be without a host but they won't be without a queen.
A scathing critique of a patriarchal, hypocritical society, Henri-Georges Clouzot's "La verité" is a compelling story about a woman accused of murdering her lover and the courtroom drama that pursues.
A French judge refused Monday to block the release this week in French cinemas of a movie based on a Catholic sex scandal.
It's now easier than ever in France to act out "Star Wars" fantasies.
Israeli director Nadav Lapid's "Synonyms," a movie about a young Israeli man who uproots himself to France and is determined to put his homeland behind him, won the Berlin International Film Festival's top Golden Bear award on Saturday.