A new exhibit at the Louvre, opening Thursday and marking the 500th anniversary of the Italian master's death, tries to sketch out as complete a picture of the artist and thinker as possible.
The Museum of Modern Art's new $450 million, 47,000-square-foot expansion offers visitors more than much-needed elbow room. It emphasizes new juxtapositions of works to encourage broader perspectives and new narratives.
An administrative court in Venice decided Tuesday to temporarily suspend the loan of Leonardo da Vinci's "Vitruvian Man" to the Louvre in Paris for an exhibition that is set to open later this month.
The Louvre opened a new sprawling art conservation center Tuesday some 200 kilometers (120 miles) from Paris to protect the museum's priceless artworks from its flood-prone storage reserves.
Boston's regal Museum of Fine Arts, home to some of humanity's greatest artworks, is scrambling to make amends.
The Museum of the Bible in Washington quietly replaced an artifact purported to be one of a handful of miniature Bibles that a NASA astronaut carried to the moon in 1971 after an expert questioned its authenticity.
A Botticelli portrait that long hung in Madrid's El Prado Museum is being offered this week for sale during London's Frieze Masters art fair for $30 million. But a Spanish law on cultural treasures might create difficulties for a foreign buyer.
They've become a global sensation — "paint and sip" studios where adults can spend evenings out learning to make art in a relaxed, BYOB setting. Thousands of franchises now exist to help us all unleash our inner creative.
Ask the CEO and president of the Metropolitan Museum of Art whether he's accepting money from the Sacklers, the billionaire dynasty notorious for its ties to the drug company Purdue Pharma, and the answer is somewhat complicated.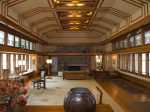 A small but important exhibit at the Metropolitan Museum of Art explores a little-known facet of architect Frank Lloyd Wright's creations: his line of wallpapers, printed and woven textiles, and other home goods designed for the public.