'Star Wars' Actor Billy Dee Williams Comes Out as Gender Fluid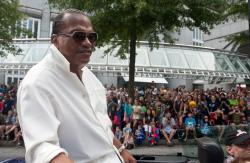 "Star Wars" actor Billy Dee Williams, 82, recently spoke to Esquire where he came out as gender fluid.

Williams, best known for his role as Lando Calrissian who first appeared in "Star Wars: The Empire Strikes Back" in 1980, opened up about his gender identity, saying he's fine with using both he/him and she/her pronouns.

"I say 'himself' and 'herself,' because I also see myself as feminine as well as masculine," he told the magazine. "I'm a very soft person. I'm not afraid to show that side of myself.

"I never tried to be anything except myself," Williams added. "I think of myself as a relatively colorful character who doesn't take himself or herself too seriously."

In the Esquire piece, Williams was told that Donald Glover, who played a young Lando in the Han Solo origin film "Solo: A Star Wars Story" last year, wanted to embrace sexual and gender fluidity for the role.

"Really? That kid is brilliant — just look at those videos," he said, referring to Glover's single "This Is America".

Williams will reprise is Lando role for the final "Star Wars" Skywalker film, "The Rise of Skywalker," which hits theaters this Christmas.

Click here to read Esquire's full interview with Williams.
Comments on Facebook