Gay Miami: The Latest
If the famous Disney Imagineers provide the "wow" factor with their fantastical feats of engineering on rides and attractions, it's the entertainment division that provides Disney World's heart.
Karen Pence's return to teaching at a Virginia school that lists "homosexual or lesbian sexual activity" as among the disqualifying criteria for employees is drawing criticism from the nation's largest gay rights advocacy group.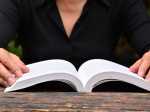 Members of a Kansas public library board are considering a request to move books that include transgender characters out of the children's section.
A survey of sexual harassment within the far-flung United Nations system found that a third of respondents experienced at least one incident in the last two years — most commonly sexual stories or jokes that were offensive.
Harmony Korine's "The Beach Bum," Olivia Wilde's directorial debut and a documentary on the breakout campaign of Texas politician Beto O'Rourke will premiere at the annual South by Southwest Film Festival.
Poles on Wednesday heatedly condemned the power of hate speech to trigger real-life violence after the slaying of a popular liberal mayor, with many calling for stronger actions against those who threaten others.
Steve Carell is starring in a new workplace comedy that could be out of this world.
A TV journalist known for confronting would-be child predators has been snared himself in a police investigation alleging he wrote bad checks for $13,000 worth of marketing materials.
Kirsten Gillibrand is hitting the television daily double this week. The New York senator announced her presidential candidacy on Stephen Colbert's "Late Show," following it up with an MSNBC interview Wednesday with Rachel Maddow.
When Sen. Elizabeth Warren took the stage earlier this month at this city's ornate Orpheum Theatre, Tricia Currans-Sheehan posed a pointed question to the expected presidential contender.
A grand Washington ritual became a potential casualty of the partial government shutdown as House Speaker Nancy Pelosi asked President Donald Trump to postpone his Jan. 29 State of the Union speech.
Why is the accused pedophile R. Kelly still able to maintain a "sex slave cult"? Why is this story not getting more traction in mainstream white media? Why do fans not abandon him? The six-part "Surviving R. Kelly" explores this.

British Prime Minister Theresa May is reaching out to opposition parties and other lawmakers Thursday in a battle to keep Brexit on track after surviving a no-confidence vote.

Consumer advocates and the data-hungry technology industry are drawing early battle lines in advance of an expected fight this year over what kind of federal privacy law the U.S. should have.
Challenging the Trump administration on a top consumer issue, leading congressional liberals are proposing legislation that would radically reduce U.S. prescription drug bills by linking prices to lower costs in other countries.
Volkswagen and Ford say they're forming a global alliance in which they will together develop commercial vans and medium-sized pickups while exploring broader cooperation on battery-powered and autonomous vehicles.
There's a troubling link between a fat-rich diet common in the West and brain-related ailments that can actually impair our ability to avoid overeating.
A member of the family that owns OxyContin maker Purdue Pharma told people at the prescription opioid painkiller's launch party in the 1990s that it would be "followed by a blizzard of prescriptions that will bury the competition."
Spanish government figures show the country received a national record of 82.6 million foreign tourists last year.

The 20th edition of the GLAM Awards celebrated the best of NYC nightlife. Hosted by Ru Paul's Drag Race's Bob The Drag Queen and Peppermint, this was a night full of amazing performances, camaraderie and so much creativity!