1 thru 10 of 1568 Stories
The Tokyo Motor Show opens this week with plenty of futuristic technologies but absent one of the auto industry's hugest influencers: Nissan's former Chairman Carlos Ghosn.
A pickup truck driver accused of causing a collision that killed seven motorcyclists in New Hampshire has been indicted on 23 charges saying he negligently caused the deaths and was under the influence of one or more drugs at the time.
On the picket lines at a General Motors transmission plant in Toledo, Ohio, passing cars honked and striking workers celebrated a tentative contract deal by munching on 10 pizzas dropped off by a supporter.
General Motors CEO Mary Barra joined negotiators at the bargaining table, an indication that a deal may be near to end a monthlong strike by the United Auto Workers union that has paralyzed the company's factories.
With the strike by factory workers against General Motors in its 29th day, there are signs that negotiators may be moving toward an agreement.
Subaru is recalling more than 350,000 Forester vehicles with heated seats because an electrical connection in the front passenger seat may loosen and deactivate the airbag even though the seat is occupied.
We're rounding up the most significant vehicles for 2020, presented in alphabetical order. These are cars, trucks and SUVs that reveal major trends and shifts in the industry.
Contract talks aimed at ending a 21-day strike by the United Auto Workers against General Motors have taken a turn for the worse, hitting a big snag over product commitments for U.S. factories, a union official wrote in an email to members.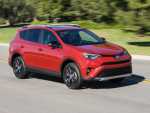 Naturally, fancy add-ons make new cars more appealing. But the data shows that they don't hold their value over time, which creates an opportunity for the used-car shopper to get more car for the money.
Car lovers from around the world splashed out more than $27 million at an auction Sunday for dozens of luxury cars seized from the son of Equatorial Guinea's president in a Swiss money-laundering probe.
1 thru 10 of 1568 Stories