Top Story
By Sunday, Trump's Commerce Department is expected to issue an opinion on whether auto imports endanger U.S. national security enough to justify such import taxes. Trump would...
1 thru 10 of 12030 Stories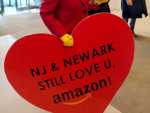 Amazon's breakup with New York was still fresh when other cities started sending their own valentines to the online giant.
Despite President Donald Trump's tough talk on trade, his administration has granted hundreds of companies permission to import millions of tons of steel made in China, Japan and other countries without paying the hefty tariff he put in place.
When California voters legalized marijuana, they were promised that part of the tax revenue from pot sales and cultivation would be devoted to programs to teach youth how to avoid substance abuse.
The billion-dollar Olympics are awash with cash. But volunteers work for free. That's the case next year at the Tokyo Olympics and Paralympics, where about 80,000 volunteers will be needed.
The average tax refund and the total amount of refunds issued declined for the second straight week, potentially intensifying a political flashpoint seized by Democrats as proof that the Republican-written tax law hurts the middle class.
A federal utility board voted Thursday to close a coal-fired power plant in Kentucky, rejecting pleas from President Donald Trump and U.S. Senate Majority Leader Mitch McConnell and handing the coal industry a defeat in its backyard.
What they didn't expect was the protests, the hostile public hearings and the disparaging tweets that would come in the next three months, eventually leading to Amazon's dramatic Valentine's Day breakup with New York.
It's been a complicated few weeks for Amazon, what with its abrupt pullout from a massive New York City development, extortion claims related to intimate photos taken by its founder Jeff Bezos and increasing antitrust scrutiny in Europe.
Why not take some of the Mexican drug lord's billions in ill-gotten gains and make him pay for a border wall? That may be a tall order, especially since federal officials can't say for sure how much Joaquin Guzman may still have, or how to get hold of it.
The head of a Philippine online news site who was arrested on a libel complaint accused President Rodrigo Duterte's administration of acting like a dictatorship and using the law as a weapon to muzzle dissent.
1 thru 10 of 12030 Stories