Trog and Clay (An Imagined History of the Electric Chair)
Subtitled "An Imagined History of the Electric Chair," Michael Vukadinovich's "Trog and Clay" is a historical farce about a world in flux and the opportunities, and monstrosities, that it conjures.


Titans of American invention George Westinghouse (Mikey DiLoreto) and Thomas Edison (Terrence P. Haddad) are embroiled in a war to define the future. Edison has created a system of electrical distribution and application, now becoming entrenched, which relies on direct current. Westinghouse is an investor and promoter of a new, alternating current technology invented in Europe. In order to prevent his rival's new form of power from displacing direct current as the dominant technology, Edison creates a public relations scheme to cast alternating current in a sinister light, encouraging a view of alternating current as a "dangerous" form of electricity. To drive the point home, Edison seeks to see a new kind of execution--the electric chair--promoted as emblematic of Westinghouse's alternative.
Westinghouse's own wife, Marguerite (Renée Rossi Donlon), becomes part of Edison's plot: She seduces a hapless man named William Kemmler (Chris Larson) into murdering his wife so that the two of them can run away together. Marguerite has no intention of making a life, on the run or otherwise, with Kemmler; she's into the scheme for the drama. Moreover, she has become Edison's paramour.

Enter Trog (Cameron Beaty Gosselin), an itinerant, penniless philosopher and dogcatcher, and his lesbian companion Clay (Louise Hamill). The two sell captured stray dogs to Edison, not realizing that he's using the animals in tests of the efficiency of electrocution as a means of execution. It's not long before the two of them are drawn into the heart of the so-called "War of Currents" between Edison and Westinghouse, to uproarious effect.

As staged by Fresh Ink Theatre, the play's farcical elements are downright Vaudevillian in nature. Chris Larson is a treasure, not only as Kemmler but also as the town coroner, who offers his gleeful assessment of a corpse's cause of death with jittery delight. DiLoreto assumes an air of gravitas as the judge hearing the case against Kemmler, whom Edison wishes to see die on the chair in a grisly demonstration of alternating current's power to kill, but he also turns in a layered performance as Westinghouse. Donlon not only smolders as Marguerite, but also gets her comic jabs in as one of the town's dogs (she appear opposite a papier-mâché dog puppet).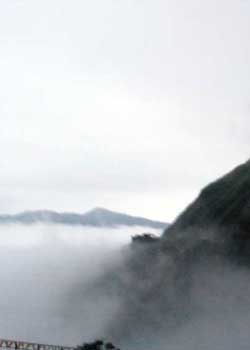 It's Gosselin and Hamill who anchor the play, though: Their skewed, bright-eyed, and somewhat moth-eaten characters are a couple of overgrown street urchins caught up in events they don't comprehend, but they bring a strain of dignity to their resistance to what they see as Edison's evil plan to murder innocent animals.

The most shocking thing here is that the play is loosely based on actual events and a real trial case. Sympathetic characters keep things tasteful, though, and you don't feel that you're watching an exploitation or trivialization of tragic events; indeed, it's easy to imagine that this play could in all seriousness be cited in any somber debate about capital punishment, despite its comic tone.

This zesty play carries a charge, not least thanks to lighting designer Tim Boland, who you swear makes sparks fly at the play's climax. Director Lizette M. Morris carefully modulates the play's strains of comedy and melodrama and keeps it from slipping into mere silliness.
"Trog and Clay (An Imagined History of the Electric Chair)" continues through May 12 at the Factory Theater, 791 Tremont Street, Boston. Performances take place Thursday - Saturday nights at 8:00 p.m. Tickets cost $16 general admission and may be obtained online at https://web.ovationtix.com/trs/pr/872325/
Kilian Melloy serves as EDGE Media Network's Assistant Arts Editor. He also reviews theater for WBUR. His professional memberships include the National Lesbian & Gay Journalists Association, the Boston Online Film Critics Association, The Gay and Lesbian Entertainment Critics Association, and the Boston Theater Critics Association's Elliot Norton Awards Committee.
Comments on Facebook