This Means War
It doesn't need to be Valentine's Day to enjoy a romantic comedy. However, the romantic comedy needs to be inviting. With the release of "This Means War" audiences are subjected to a tired plot and a laundry list of clichés mixed in with a smattering of action and C.I.A. hi-jinx. The film only finds its footing with its spot-on cast, willing to go the extra mile to get laughs.

CIA agents F.D.R. and Tuck are partners and best friends, but couldn't be further apart. F.D.R. (Chris Pine) is a womanizing, man-child, while Tuck (Tom Hardy) wants to find someone to settle down with him. Unknowingly, they fall for Lauren (Reese Witherspoon) and, rather than backing off, the friends decide to compete against each other for her affections - without telling her what is going on. What starts out as a gentlemen's agreement between two friends becomes an all-out war as each attempts to sabotage the other.
Witherspoon has a proven track record in romantic comedies. While she often clicks well with the audience, it is harder for her to find a suitable co-star who can keep up with her. She tends to take control of the screen, leaving little left for anyone else. Her co-stars are able to stay in the picture but the chemistry with her never fully clicks with either of her potential onscreen love interests. But Hardy and Pine have great chemistry. Their easy rapport makes it believable that they are longtime friends and partners, and possibly more from one scene.

The script by Simon Kinberg and Timothy Dowling is a mess, unsure of its exact focus. Kinberg ("Mr. and Mrs. Smith," "Jumper") and Dowling ("Role Models," "Just Go With It") are experienced writers, but seem to have different strengths. As such, the film is all over the place using plot devices that would have been relevant a decade ago, but seem antiquated today.

Having F.D.R., which they never really explain the basis behind his name since his last name is Foster, meet Lauren in a video store shows how out of touch the writers seem to be. Kinberg and Dowling have taken a lazy approach using outdated scenarios with characters that are cookie cutter archetypes. Each of the four characters - including Lauren's best friend, played by Chelsea Handler - have been seen in countless other romantic comedies, some may even have starred Witherspoon.
Handler seems to be going off script and making up the jokes in the moment. Using her trademark brand of humor, the comedienne is able to steal the show from her higher wattage co-stars. The cast is what saves the film from being a throwaway romantic comedy.

Director McG has previously handled the "Charlie's Angels" franchise and he doesn't stray far from the style of those films here. The secondary plot about a CIA target looking for revenge after his brother was accidentally killed in the opening moments feels like an afterthought to try to widen the appeal to more guys. The film excels when Pine and Hardy are battling each other, not foreign criminals, over the affection of Witherspoon's character.
Despite the film's many faults, it's hard not to have fun and go along for the ride. There's nothing insulting about the film, but in its lackadaisical approach some people will be put off from watching. Moving at a quick pace, it is easy to look past the crater sized plot holes.

The main actors are having such a good time that you won't be able to stop having fun either. The guys are living any boys fantasies being able to play love scenes, though at times you do wonder if there isn't something in their past that might have made them more than friends, as well as the macho action fight scenes with explosions. Because the film includes both of these elements, it allows a wider audience than the typical romantic comedy. But don't be fooled, this is a romantic comedy; even if you are left sometimes wondering which pairing you should be hoping to get their happy ending.
This Means War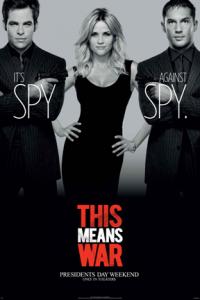 Info
Runtime :: 97 mins
Release Date :: Feb 17, 2012
Language :: English
Country :: United States

Comments on Facebook